ELECTRONIC DIGITAL SIGNATURE PAD
PRIME POS Solutions will provide Electronic Digital Signature  pad and pen with best price with affordable cost which can be connect to pc/mac/latop. It will capture the good quality signature and store in pdf,word,excel..Etc. Electranic Digital Signature pads are USB port device easy get connected to system. Prime Point of sale is Partner with topaz and posiflex for providing the Electronic Digital Signature Pad and Pen to there Customers in Hyderabad, Bangalore, Chennai, Vizag, Vijayawada all over India.
WHAT IS ELECTRONIC DIGITAL SIGNATURE PAD ?
An Electronic Digital Signature pad is Hardware Device Which can be connected to Any Electronic computer Device to capture the signature of person and fix the same in the documents. The world way forwards to digitization each and every document converting toward digital. For Government and bank,legal…etc Require Digital Signature .Ex. Aadhaar Card, pan Card,…etc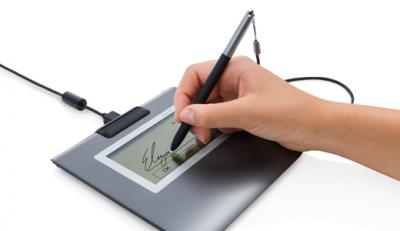 BENEFITS OF ELECTRONIC DIGITAL SIGNATURE PAD
AUTHENTICATION
INCREASE ROI
REDUCE PAPER
DIGITIZE FILES